KANSAI SPECIAL DFB-1406PL 6-Needle Flat Bed Double Chain Stitch Machine for Attaching Line Tapes
Availability: In stock
Quick overview
6 Needle Chain Stitch Machine for Line Tapes. 8 and 12 Needle machines are also available.
KANSAI SPECIAL DFB-1406PL Four Needle Chain Stitch Machine for Line Tape Attaching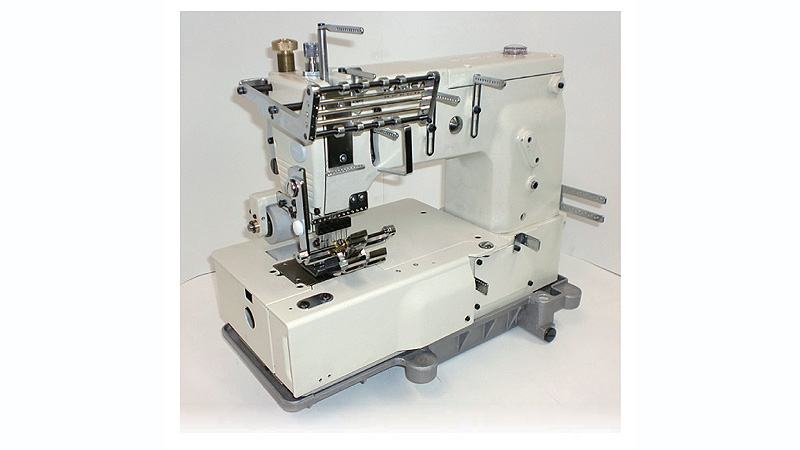 MACHINE BRAND:
MACHINE MODEL:

DFB-1406PL

MACHINE DESCRIPTION:

The KANSAI SPECIAL DFB-1406PL is a 6 needle double chainstitch sewing machine designed for attaching line tapes on athletic wear and similar items (think the legendary ADIDAS triple lines).


In addition, this machine can be purchased with 8 or 12 needles depending on your exact requirements.

DFB 1406PL - 6 Needles - Needle Gauge 1/4, 1/3 or 3/8

DFB 1408PL - 8 Needles - Needle Gauge 1/4

DFB 1412PL - 12 Needles - Needle Gauge 1/4 or 3/16

Please see the spec sheet below for all different configurations the DFB-1406PL machine can be ordered.

TECHNICAL SPECS:
Technical Data



See spec sheet below

MACHINE SETUP:

This machine ships complete and fully assembled - ready to sew upon arrival.

It includes:

Machine Head
Table Top
Heavy Duty Stand
SERVO Motor
LED Light
Manuals
Extra needles

MOTOR & VOLTAGE:
This machine is equiped with a SERVO motor operating on standard 110 Volts power.
WARRANTY:
1 Year Warranty
SALE PRICE:
DECIDE ON YOUR OPTIMUM CONFIGURATION AND CALL 1-800-228-0001 FOR QUOTE
SHIPPING COST:

Commercial / Business Address = $185.00

Home / Residential Address = $240.00

DELIVERY TIME:
SPECIAL ORDER ONLY. May take 7 to 14 days for delivery.
MACHINE BROCHURE:
N/A
PARTS MANUAL:
Printed copy comes with the machine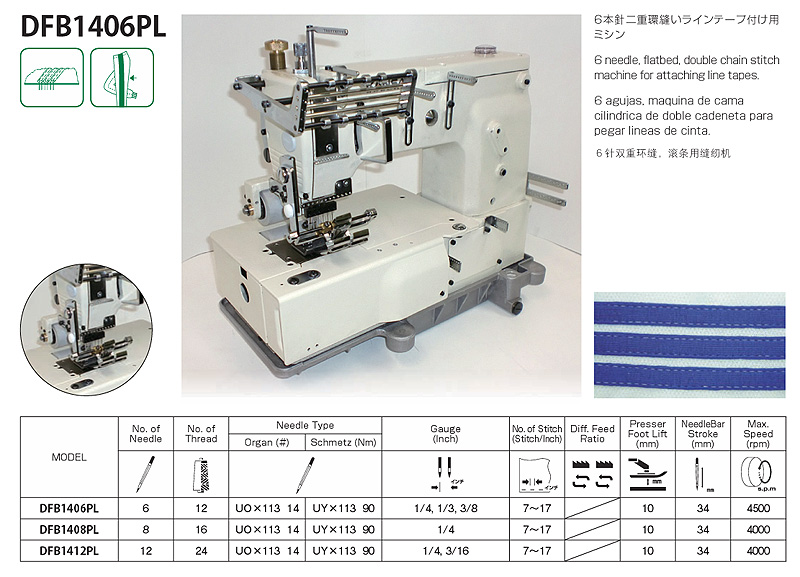 ...