KANSAI SPECIAL FX-4406PL 6-Needle Cylinder Bed Double Chain Stitch Machine for Attaching Line Tapes
Availability: In stock
Quick overview
6 Needle Cylinder Bed Chain Stitch Machine for Line Tapes. 8 and 12 Needle machines are also available.
KANSAI SPECIAL FX-4406PL Six Needle Cylinder Bed Chain Stitch Machine for Attaching Line Tapes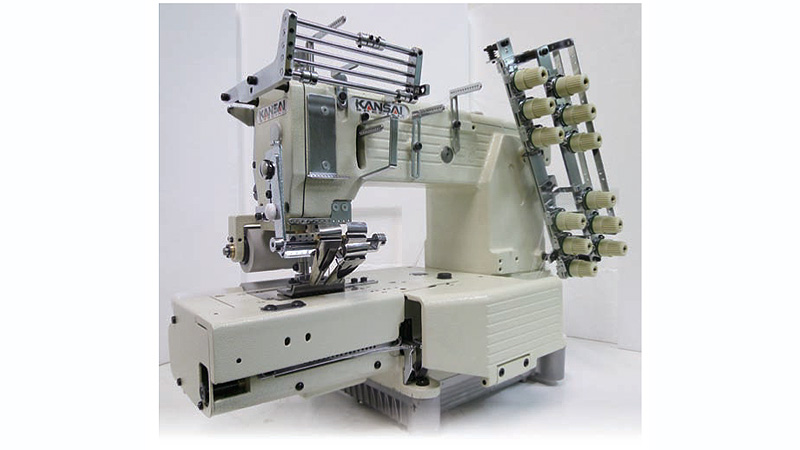 MACHINE BRAND:
MACHINE MODEL:

FX-4406PL

MACHINE DESCRIPTION:

The KANSAI SPECIAL FX-4406PL is a 6 needle CYLINDER BED double chainstitch sewing machine designed for attaching line tapes on athletic wear and similar items (think the legendary ADIDAS triple lines).


In addition, this machine can be purchased with 8 or 12 needles depending on your exact requirements.

FX 4406PL - 6 Needles - Needle Gauge 1/4 or 1/3

FX 4408PL - 8 Needles - Needle Gauge 1/4

FX 4412PL - 12 Needles - Needle Gauge 1/4

Please see the spec sheet below for all different configurations the FX-4406PL machine can be ordered.

TECHNICAL SPECS:
Technical Data



See spec sheet below

MACHINE SETUP:

This machine ships complete and fully assembled - ready to sew upon arrival.

It includes:

Machine Head
Table Top
Heavy Duty Stand
SERVO Motor
LED Light
Manuals
Extra needles

MOTOR & VOLTAGE:
This machine is equiped with a SERVO motor operating on standard 110 Volts power.
WARRANTY:
1 Year Warranty
SALE PRICE:
DECIDE ON YOUR OPTIMUM CONFIGURATION AND CALL 1-800-228-0001 FOR QUOTE
SHIPPING COST:

Commercial / Business Address = $185.00

Home / Residential Address = $240.00

DELIVERY TIME:
SPECIAL ORDER ONLY. May take 7 to 14 days for delivery.
MACHINE BROCHURE:
N/A
PARTS MANUAL:
Printed copy comes with the machine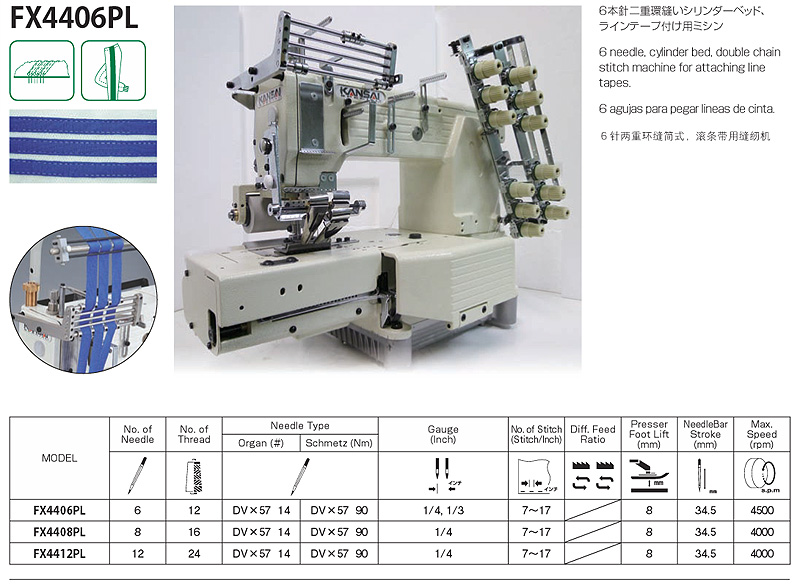 ...