SONOBOND SeamMaster SM86 Ultrasonic Sewing Machine Heat Seal Machine
Availability: In stock
Quick overview
Ultrasonic Sewing Machine - Ultrasonic Heat Seal Machine
SONOBOND SeamMaster SM86 Ultrasonic Sewing Machine - Heat Seal Machine

*** SOLD ***
$5,995.00 plus $240.00 for Shipping (Mainland 48 US States)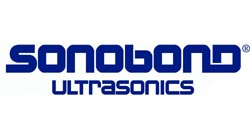 Ultrasonic Sewing Machines that SEAL, SEW, and TRIM non-woven and synthetic fabrics in one quick, reliable step. An ideal tool for cost-effective bonding and high quality decorative lacing.

The SONOBOND SeamMaster provides rapid sealing, sewing and trimming of synthetic fabrics without thread, glue or other consumables. Although similar in appearance and operation to traditional sewing machines, these ultrasonic bonders eliminate all needle and thread breakage, thread color changeover, and thread unraveling problems. They are also more cost effective than other sewing, heat sealing, or adhesive machines - and up to four times faster.
SONOBOND's SeamMaster is specially designed for the textile and apparel industries. There are over 500 patterns available for selection of the interchangeable pattern rollers and can also create custom designs for slitting, lacing, embossing and "stitching". This machine performs its function in one quick pass saving time, labor, and material. Seams bonded by SONOBOND's SeamMaster are so perfectly fused and sealed that they can be used to help comply with OSHA's regulations for barrier seams.
The SONOBOND Seam Master offers a diverse production alternative to joining, cutting, patterning, and quilting synthetic fabrics. Materials best suited for ultrasonic bonding are 100 percent synthetic or blends with up to 40 perecnt natural fibers.
Materials that can be used on the SeamMaster Series of ultrasonic bonders are polypropylene, polyester, nylon, acrylics, vinyls, PVC, and thermoplastic urethanes that are constructed as wovens, non-wovens, knits, films, and laminates. Products include draperies, window shades, garments, blankets, awnings, athletic accessories, automotive seats and carpets, banners, flags, medical apparel and disposables, safety garments, ballistics coverings, aviation insulation panels, netting, and ribbons.
Ultrasonic bonding is accomplished by channeling high-frequency vibrations to the fabric. As synthetic or non-woven material passes between an ultrasonic unit's horn and anvil, the vibrations are directed into the fabric where they create a rapid heat build-up. This heat causes the material's synthetic fibers to melt and fuse, creating bonded seams that will not fray or unravel.
SPECS:
Frequency: 20 kHz

Power: 110 Volt

Compressed Air: 90 PSI

Tuning: Automatic

Max Pattern Width: 2"

Standard Speed: 60 ft per minute

Dimensions: 48" x 21" x 30"

Weight: 265 lbs
Call Sunny Sewing Machine at 1-800-228-0001 or 214-749-7991 for purchasing or request additional details.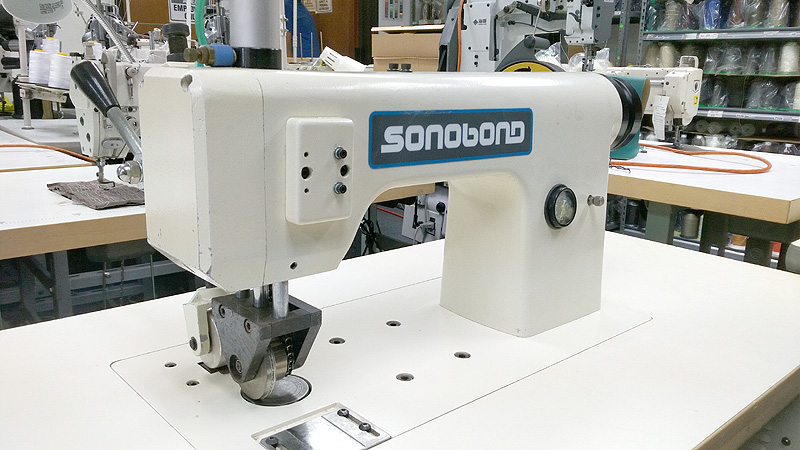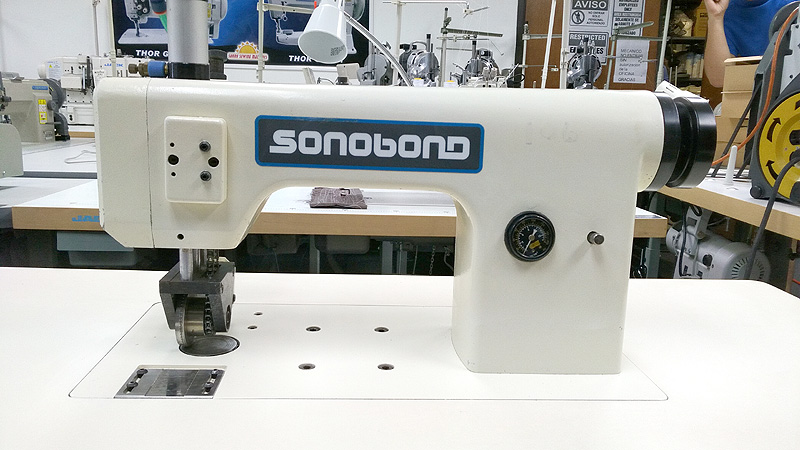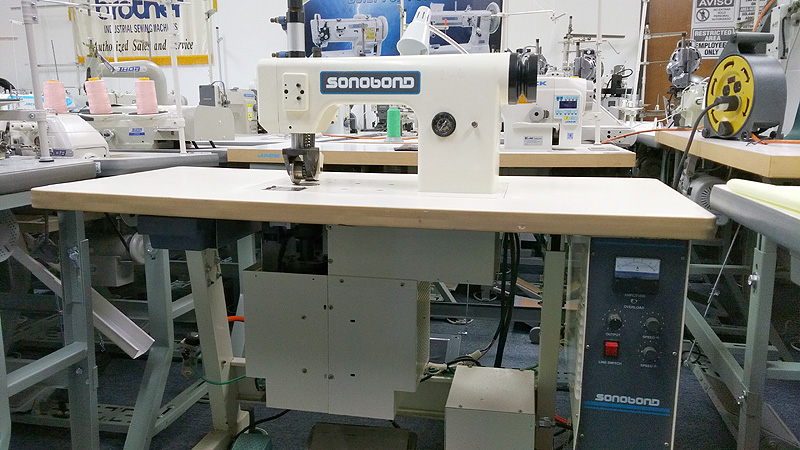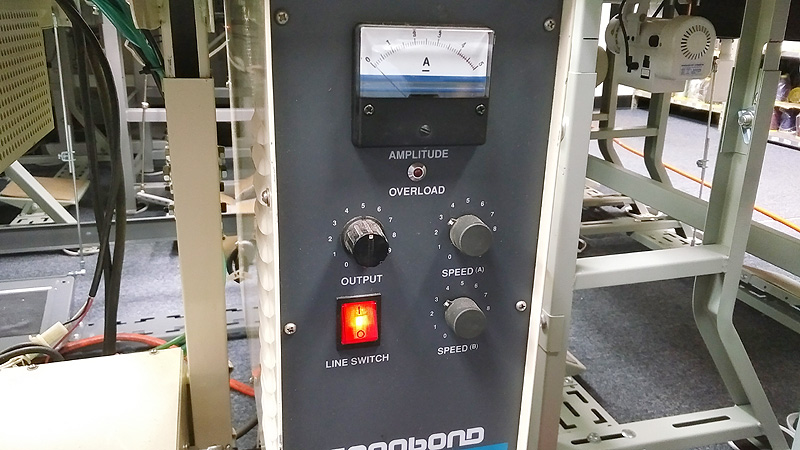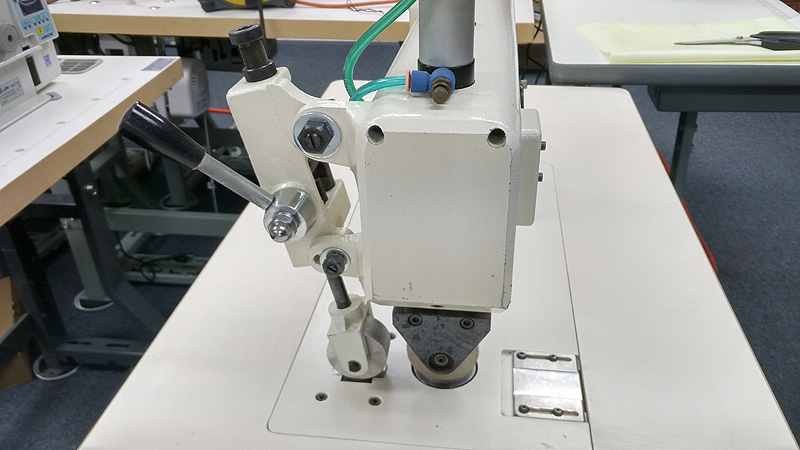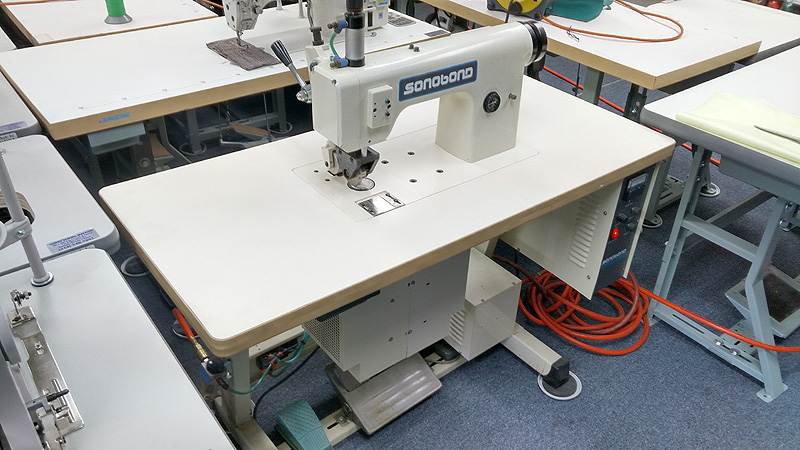 ...