USED INDUSTRIAL SEWING MACHINES
Unless otherwise noted, every machine you see on this page will be shipped complete and in READY TO SEW condition. This inventory of machines changes often - as we mark out the machines that have been sold and upload newer inventory as our techs get them ready.
If you are interested in a specific model, contact us at 1-800-228-0001 as not all machine we have in our warehouse are listed here.
...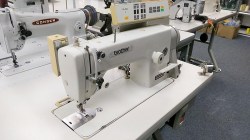 USED - Single needle, automatic needle feed sewing machine, auto thread trimmer, auto foot lift, auto back tacks, complete and fully assembled.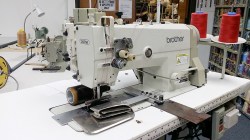 Double Needle Lockstitch Sewing Machine with 3 Inch Needle Gauge, Racing Puller and Folder. Automatic Foot Lift.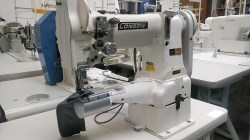 Cylinder Arm Walking Foot Sewing Machine for Leather, Vinyl and Upholstery fabrics. Complete and Fully Assembled with Table Top, Stand and 110 Volts SERVO Motor.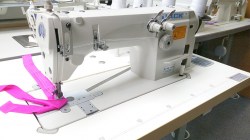 USED - Double Needle Chainstitch Sewing Machine with 1/4" Needle Gauge and Direct Drive Motor.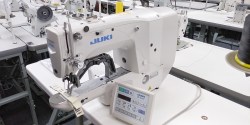 USED - Electronic Tacker with 50 Patterns in Memory and 40 mm x 30 mm Sewing Field, 1" Tacking Clamp, Excellent Condition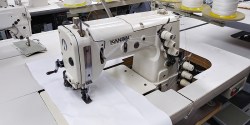 3 Needle Chain Stitch Sewing Machine for Sewing Banners. Includes Rear Puller, Complete and Fully Assembled, 110 Volt Clutch Motor. Pre-Owned Machine in Very Good Condition.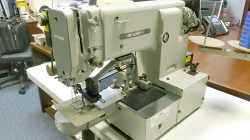 USED MITSUBISHI Electronic Tacker / 1 Inch Box X Sewing Machine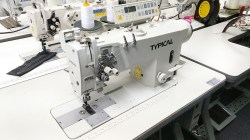 Full Automatic Double Needle Sewing Machine with 1/4" Gauge, Auto Thread Trimmer, Auto Foot Lift, Auto Back Tacks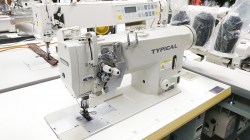 Full Automatic Double Needle SPLIT NEEDLE BAR Sewing Machine with 1/4" Gauge, Auto Thread Trimmer, Auto Foot Lift, Auto Back Tacks