USED INDUSTRIAL SEWING MACHINES
Unless otherwise noted, every machine you see on this page will be shipped complete and in READY TO SEW condition. This inventory of machines changes often - as we mark out the machines that have been sold and upload newer inventory as our techs get them ready.
If you are interested in a specific model, contact us at 1-800-228-0001 as not all machine we have in our warehouse are listed here.
...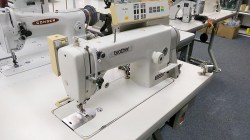 USED - Single needle, automatic needle feed sewing machine, auto thread trimmer, auto foot lift, auto back tacks, complete and fully assembled.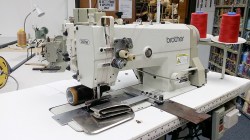 Double Needle Lockstitch Sewing Machine with 3 Inch Needle Gauge, Racing Puller and Folder. Automatic Foot Lift.